Welcome to another episode of my newly not so acclaimed, Movie beatdown! We will talk all things with horror movies and television. We will cover everything from slashers to slayers. Beheadings to bitches…I'll talk about all of it!
This breakdown is "The Slumber Party Massacre". Now, the purpose of the beatdown is to dissect these movies, so if you don't want the movie spoiled…don't read the content below. This breakdown is like Wikipedia…just with more pee. You have been warned! If you don't have time to watch the movie and would like a quick synopsis, then keep reading and let me tell you all about this movie from my gay eyes. It's like a synop-sis!
The Slumber Party Massacre (also known as The Slumber Party Murders in the United Kingdom) is a 1982 American slasher film directed by Amy Holden Jones, and written by Rita Mae Brown. It is the first installment in the Slumber Party Massacre trilogy, and stars Michelle Michaels, Robin Stille, and Michael Villella. The film follows a high school senior who gathers her friends for a slumber party, unaware that an escaped power drill-wielding killer is loose in the neighborhood.
The film was originally written by Brown as a parody of the slasher genre but was shot as a straightforward horror film instead. As a result, it contains more humor, both intended and unintended, than usual for the genre at the time.
The Slumber Party Massacre grossed $3.6 million at the box office on a budget of $220,000, and received mixed reviews from critics. Despite the reception, it has obtained a large cult following since its release. Two sequels, Slumber Party Massacre II and Slumber Party Massacre III, followed in 1987 and 1990, respectively.
Without further ado…let's get to the beatdown.
The opening credits start with lovely organ music that cuts with abrupt key changes. Like if somebody punched the keys at random to make it scary. This is something that continuously happens in the movie when a scary scene occurs. In Venice, Los Angeles, Trish Deveraux, an 18-year-old high school senior awakens to get dressed, showing the movie's first boob shot within the first five minutes. She then packs all of her childhood toys in a bag to throw them out. I'm assuming that it's because she didn't want any of her friends to see them at her slumber party while her parents are away…which is stupid! Just hide them in the damn closet like normal people! Think of how the toys feel!
Their neighbor, Mr. David Contant, is given the job of checking on the girls. She walks away from the trash can and the scene cuts away to a hand taking a Barbie doll, which I would do the same thing too. It was a cute Barbie, and that idiot threw it away! One man's trash…
Meanwhile, Russ Thorn, an escaped mass murderer, kills a telephone repair woman and steals her van after Jeff and Neil hit on her creepily. She gets wrestled in the van before getting drilled…by the murder weapon.
We then cut to the girl's basketball team practicing, poorly. Trish meets up with her friends Kim, Jackie, and Diane after an awkward shower scene where there is more unnecessary nudity, unless if you are into that stuff.
She invites the new girl, Valerie, to the party but she declines the offer. Probably because she was the only one at basketball practice that was actually doing decent. She can do better than going to a slumber party with a bunch of amateurs!
Some of the girls were reluctant to inviting her, to the point where they assumed because "she drank too much milk," OHMYGAWD! Lactose hater! After school, one of their classmates, Linda, goes back into the school to retrieve a book but gets locked inside, since most schools chain and padlock their doors after hours.
She is attacked, chased around the school for way too long of period of time while the crazy organ plays. She gets drilled in the arm and eventually finds a decent hiding spot…behind a door. Seriously, why would you hide behind a door that is able to be opened? You deserve to be killed second! Her cover is blown shortly after with the blood that dripped underneath and then Russ drills through the door and ends with her screaming bloody murder, not knowing what in the hell actually happened to her. Russ then runs out the building, that is now suddenly unlocked towards the repair van.
Diane then walks home alone carrying her textbooks…like she knows how to read? The camera is following her shakily with the illusion that somebody is following her, or has nicotine withdrawals. A hand grabs her, and she kung fu flips him to the ground. It was good ole' jock John. They exchange a few words that nobody gives a hoot about and then we cut to the gym teacher. She drives home and the radio talks about Russ's escape before she changes it to something more interesting. She makes it to her door, and a drill breaks through startling her. Gotcha! Just a neighbor creating a new peephole for her door.
Trish then plays her piano very well…I'm surprised that she didn't throw that shit out too! People judge piano players just the same as Barbie's! Then we go back to the gym teacher drinking wine out of a regular glass as she grates cheese before knocking it to the floor, making a mess. Maybe if you had the appropriate glass that wasn't at the edge of the counter, this wouldn't be an issue! Better grab your Brawny! Super absorbent! If you couldn't tell, there is a lot of back-and-forth action with different characters. There really isn't one main person they follow. The two boys walk their bikes down the street and pass the van, then cutting to Jackie and Kim walking up the porch to Trish's house and we see Russ creepily in the bushes.
As the party begins that night, the girls smoke marijuana and drink alcohol. Valerie babysits her younger sister, Courtney across the street. She makes what appears to be a crappy batch of Kool-Aid. She measures the sugar pretty scarcely. I need her to commit! Either that or add booze to it! The three girls are continuing to smoke their maui wowie and get startled by bitchy little Diane. Cut back to Valerie and Courtney doing their sisterly bonding with bickering. I will also need to point out that they did a bad job of making Courtney look younger! They just give an adult two pigtails and call it a day. They hear a noise, prompting Valerie to check it out. While she goes outside, Courtney goes to her room to sneak a peek at a Playgirl Magazine with Sylvester Stallone on it. YUM!
Jeff and Neil, arrive and spy on the girls while they change clothes, giving more of an opportunity for unnecessary nudity! Can you imagine if they did this with dudes? Oh yeah, that's right…boys don't have slumber parties. That's gay!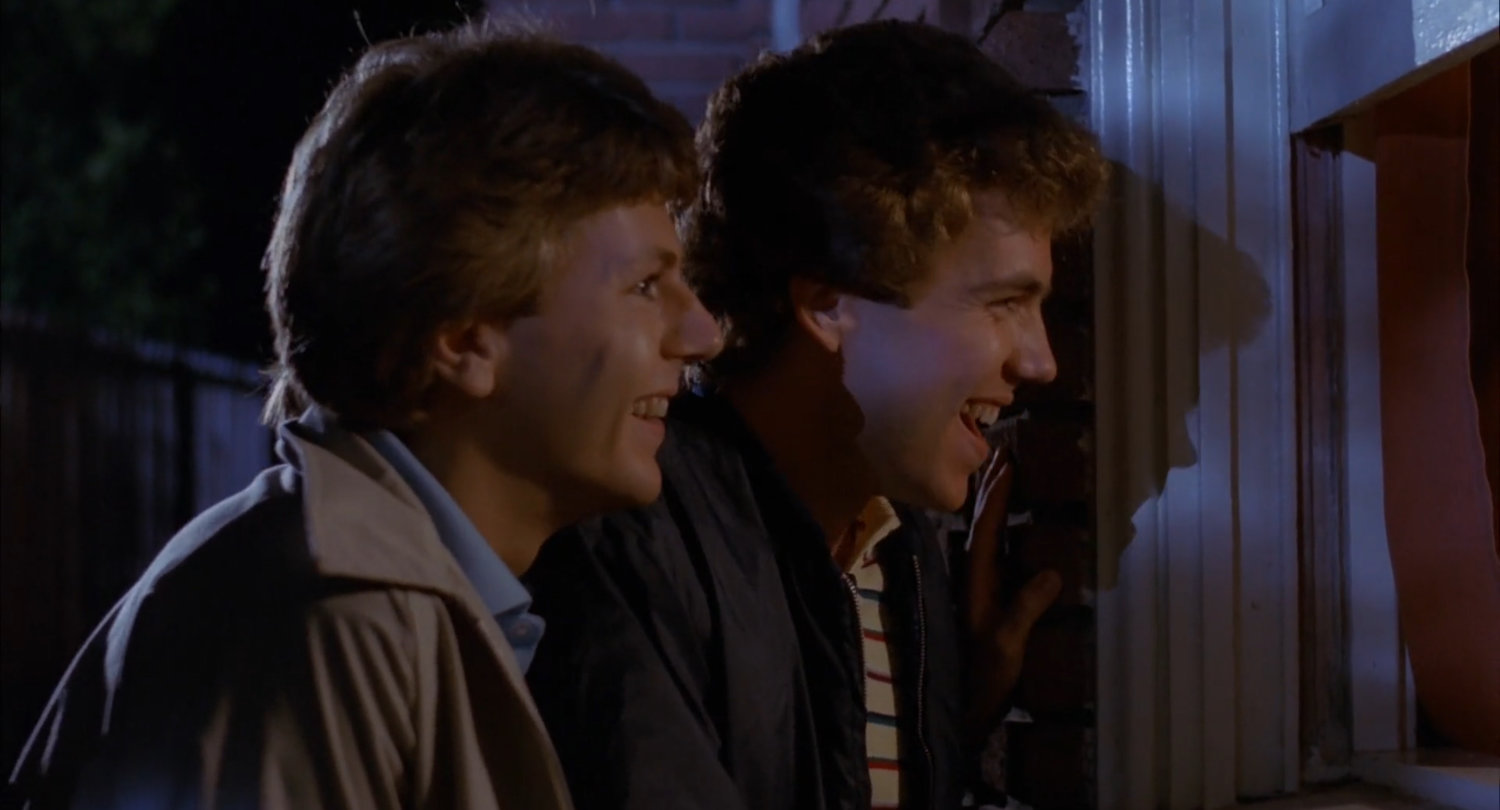 Diane goes to the garage to get some firewood and is spooked by a snail. GASP! Mr. Contant comes from behind with his meat cleaver and kills it. MY HERO! She goes back inside leaving Mr. Contant alone to be killed with a good ole' drill through the neck. Trish notices Russ's silhouette in the dark, and then finds my Barbie doll wedged in the window covered in blood. My poor baby! Her and Diane go back into the garage to check it out. Nothing.
Valerie is now doing her homework like a good kid. I will say, I love her lavender chiffon blouse! Off subject, I'm gay. I like fashion sometimes. Deal with it. She continuously checks out the neighbors. We cut to Courtney still reading her dirty magazine, getting caught by Valerie. She confiscates the piece. Courtney, like any other teenager denies doing anything with it. Valerie then pulls a used banana peel next to her bed. "Oh really?" OHMYGOD! GROSS!
Diane sneaks into the bathroom with Trish's telephone as she talks dirty before getting caught by the other girls laughing at her poor smutty talking. The three are so high at this point, so anything involving a mouth made them laugh out loud. The power suddenly goes out. GASP! The four of them go back into the garage to the fuse box. Setting up for another crescendo of spookiness. They get startled by Jeff and Neil. Jeff gets whapped in the face with a flashlight.
Diane asks Trish permission to go with her boyfriend to do sexy time. She asks him to park in the garage. They make out for a minute and wants Diane to go to his place for a home run. She walks into the other girls, putting hotdogs on Jeff's eye, since they don't have steaks. I love a good hotdog on the eye!
Valerie gave Courtney a makeover…and fails. It is pretty busted! Courtney wants to crash the party like a normal preteen.
Diane goes to his car to find him decapitated and is murdered as well after being chased in the locked garage. She collapses to the floor in terror as you see Russ's legs with a long drill bit in between it…phallic.
The girls order pizza and, while on the phone with their coach, Rachel Jana, the girls answer the door and find the pizza delivery man with his eyes drilled out. I was more suprised that the pizza was only six bucks! I hate how things are so expensive now! Anyway, back to the drilled eye sockets.
Gross. The phone gets disconnected from the coach, now causing her to be concerned. She calls Valerie, to request her to check it out. Valerie has no interest in helping them. She is too busy drinking all that milk! Coach decides to check it out herself.
The teens arm themselves with dull ass knives as Jeff and Neil run for help at Valerie's. Neil goes out the back through the garage, and finds Diane hanging from the rafters, before getting impaled from behind. Jeff goes out the front door and makes it to Valerie's house. He is pounding on her door, but she is too tied up with watching a scary black and white movie. She ignores it all until it's too late, Russ disarms the weak ass kitchen knife and continuously stabs him to death. He carries Jeff's body to the trunk of the car, counts the bodies, noticing one is missing.
The girls are inside, guarding themselves at the fireplace. The observe the pizza delivery boy, feeling sorry for him. Then comes the best line in the movie.
Kim- "He feels cold."
Jackie- "Is the pizza?"
Kim- "Oh god!"
Jackie- "Life goes on after all, and eating makes me feel better. And boy do I feel bad." *Takes bite* "I feel better already. I really do."
That is one of my favorite lines in slasher history! I laughed out loud when I first saw that scene!
Pizza time gets interrupted as Neil crawls to the back door, screaming before Russ finishes him off. The three girls flee.
Valerie notices Courtney is missing and sees her waling across the street towards Trish's house. I would be so pissed if I was her babysitter! Courtney hides when she notices Valerie following her. Valerie knocks on the door, hears nothing and walks to the back. Jackie goes to let her in, but gets her throat slashed by the drill as Russ meets her. Trish and Kim barricade themselves in Trish's bedroom.
Valerie finds Courtney before a storm starts to erupt. Valerie tells her to go home as she feels suspicious of the lack of anything at this point. Where's the music? Where's the booze? Where's the drugs? Where's the strippers? She lets herself in the front door. Kim hears her and wants to go to her from inside the room. Trish advises them to wait since they knew what happened to Jackie. Russ sneaks through the open window, without a screen or anything. Some house! He then kills Kim with a dull kitchen knife in the gut after a little struggling and tearing up the bedroom.
Trish flees. Russ tries to find her but was unsuccessful. She was hiding in a garment bag in the closet. I think that's a great idea. However, how dare you disrespect clothing like that!
Valerie and Courtney enter the house. Courtney wants a beer, opening the fridge while looking away, Kim's body is rocking back and forth in there.
They eventually find her dead and hide from Russ as he comes down the stairs. Valerie hides in the basement, while Courtney hides under a couch. I never knew couches were able to fit anybody underneath! Russ gives up on his search, and tosses the delivery boy down the basement, scaring Valerie and influencing her to take action to save Courtney. Russ then makes himself cozy on the living room floor for a good night's sleep for some stupid reason. You know, this would be more of a fun slumber party if you kept everybody alive RUSS! Coach Jana, having grown concerned over the phone call earlier, arrives, and is confronted by Russ.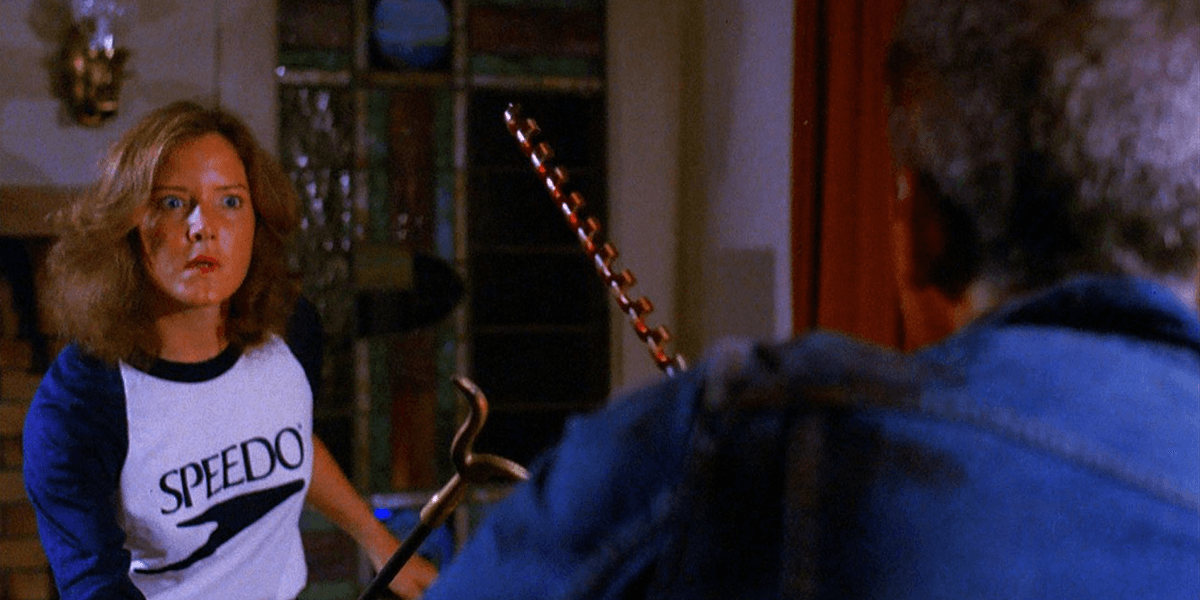 They start to fight, drill vs. fireplace poker. Valerie tries to save the day with a electric saw, but didn't realize that they are plugged in and gets pulled back for I dunno…needing to be plugged in! Courtney saves the day and trips Russ, giving Coach an opportunity to be a dumbass and beat him with the flat end of the poker. Not even the pointed end. Trish comes out to stab him. As Coach stops Trish from further stabs, Russ gets up and disembowels her with the drill. Trish is helpless as Russ tells them that they are all pretty. One of the only lines he says is "It takes a lot of love for a person to do this."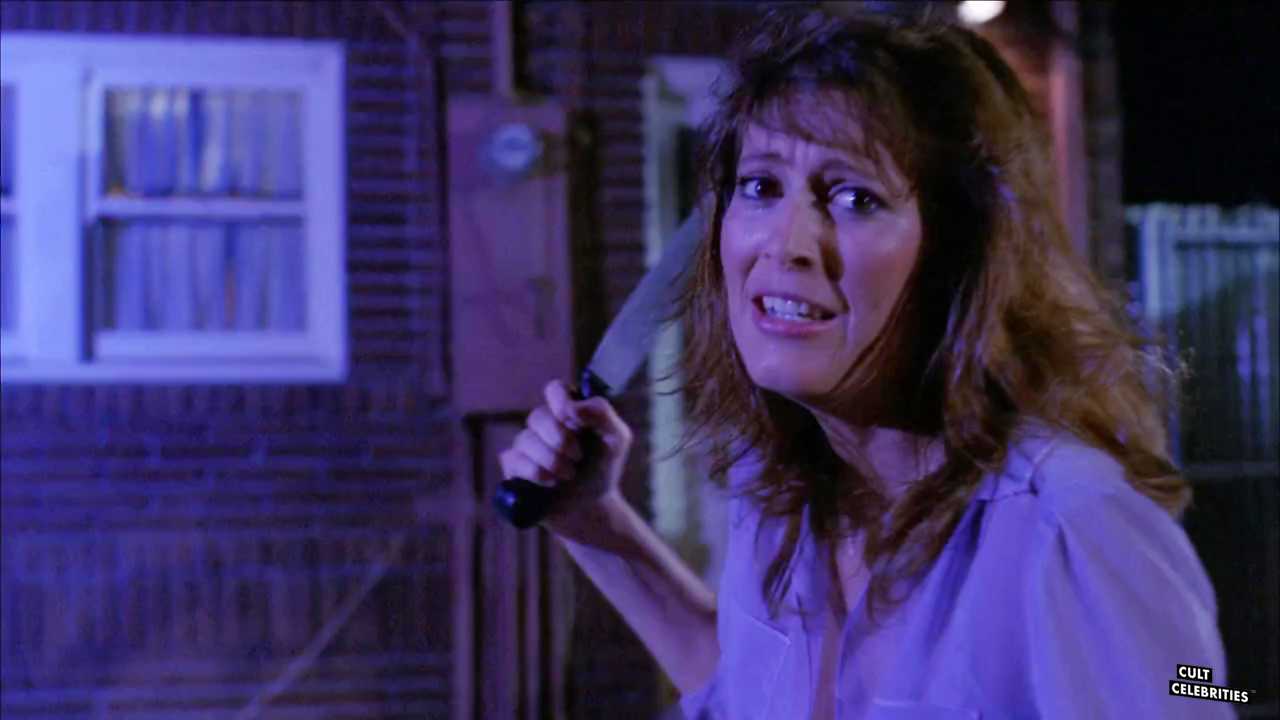 Valerie then emerges and chases Russ with a machete out to the pool in the backyard, cutting the head of the drill bit off before severing his hand and slicing his stomach open. He falls into the pool, and the day has been saved! She drops the machete and is welcomed by Courtney where they have a sisterly love moment. Russ emerges and attacks them once more, Trish pushes him back, but his focus was strictly on Valerie, who finally kills him with the machete as he lunges onto her. Valerie and Trish break down in tears as Courtney looks on in shock.
Let's hand out some awards!
The Haunted Hunk award for some strange reason will go to our killer with the huge drill. Russ! Something about him in his all denim look with his dad bod makes me feel some sort of way. Sue me!
The Killer Slay-aka best kill-will go to the pizza delivery boy. It is gruesome and without his death there wouldn't be one of the best lines in horror coming from Miss Jackie!
The Basic Beheading-aka worst kill- is going to go to Linda. There was nothing shown as to how she died. All you see is a drill going through the door and a primal scream. I understand that in horror, the scene ending means everything to the pace of the film. I was just wanting a little more.
Overall Rating- 8.2 out of 10 ********
I am a little ashamed to admit that I just watched this movie last year. I have missed out on gold! I love the concept of this movie. The flow of the story went pretty smooth. There is some cheesy humor that goes with it which, at this point if you have been following my beatdowns…I love. I wish that there is some more in certain parts. For example, I wish that Russ would say a little more as to why he is all batshit crazy. I could also do with a little less boobage. If you are into the female anatomy…you may love that.
If you have seen or heard of this movie…comment below about what you like or dislike!
And there you have it! Another beatdown in the archives! I will be posting these recaps as often as I can! I will be at least doing these bi-weekly. You may be lucky enough to get them weekly. It will just depend on the workload with my writing. Next post, we are going to take a little field trip to the, "House of Wax."
If you don't want to be spoiled…do your homework and watch it ahead of time, so that you follow along with my synopsis and understand the humor I attach to horror. If there is anything you would like for me to add in my beatdowns, have movie suggestions, or even have any feedback to give me, go to the "Contact" section of my website and shoot me an email.
Don't take my comments or humor too seriously. After all…it's just HORROR! And horror is sooo gay…right?
Also, if you love horror just as much as I do, preorder your copy of my debut novel Cardinal Rules. In the Books section, you can select one of the links on where you would like to purchase!
Until next time…keep slaying!