Welcome to another episode of my newly not so acclaimed, Movie beatdown! We will talk all things with horror movies and television. We will cover everything from slashers to slayers. Beheadings to bitches…I'll talk about all of it!
This breakdown is "House of Wax". Now, the purpose of the beatdown is to dissect these movies, so if you don't want the movie spoiled…don't read the content below. This breakdown is like Wikipedia…just with more pee. You have been warned! If you don't have time to watch the movie and would like a quick synopsis, then keep reading and let me tell you all about this movie from my gay eyes. It's like a synop-sis!
House of Wax is a 2005 slasher film directed by Jaume Collet-Serra and written by Charles Belden, Chad Hayes and Carey Hayes, based on a story by Belden. The film stars Elisha Cuthbert, Chad Michael Murray, Brian Van Holt in a dual role, Paris Hilton, Jared Padalecki, Jon Abrahams and Robert Ri'chard. It is a loose remake of the 1953 film of the same name, itself a remake of the 1933 film Mystery of the Wax Museum.
House of Wax premiered at the Tribeca Film Festival and was released in United States theaters on May 6, 2005, by Warner Bros. Pictures. The film grossed over $70 million worldwide and received generally negative reviews from critics, who criticized its lack of originality, screenplay and characters, but praised the performances and atmosphere.
Without further ado…let's get to the beatdown.
We start the movie with a boiling pot on a stove in 1974 filled with hot wax being stirred by a chain smoking mamma. She pours the wax into a facial mold while bonding with one of the kids in a high chair. In comes the father bringing a screaming and misbehaved child where they tape him into his high chair while he continues to be delinquent.
The boy scratches the mom's hand and she slaps him. That's why you don't' give your child high fructose corn syrup and yellow dye number two!
Opening title appears.
Carly(Elisha Cuthbert) and Paige(Paris Hilton) are eating French fries at a restaurant on a break from a trip to Louisiana for a football game. This scene is already not believable since I don't believe that Paris Hilton…especially in 2006, eats French fries. Wade(Jared Padelecki, from your favorite Supernatural series), Nick(Chad Michael Murray. YUM!), Blake(Robert Ri'chard), and Dalton(Jon Abrahams, from Scary Movie…I will always remember him in that masterpiece!) are also on this trip as well. Wade has apprehencions towards Carly about dragging her rebellious twin brother, Nick along for the trip. Nobody asked you SAM! In my opinion, I'm not the most fond of Jared Padelecki. He is overrated! And how dare you have problems with Chad Michael Murray! Dalton is annoying everybody with recording the whole trip on his video camera. He even goes to lengths with filming Paige and Blake having a kissing session in the car. Sorry Dalton, there is already a film with Paige's kissing abilities. Its called "A Night in Paris"! As they are driving, they catch Paige in the other vehicle reaching for her lip balm in the drivers seat, looking more like she was giving road head.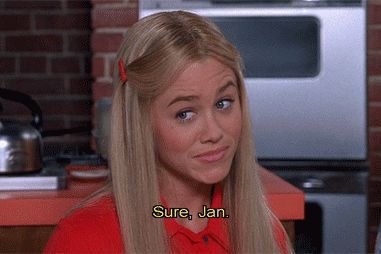 The night before the game, they camp in a field, doing normal young adult activities with drinking and playing loud music and tossing the old pigskin football. The girls dress Dalton up in the girl's clothes. The guys stated that he looks like Elton John, only gayer…how is that even possible?! A gust of wind causes the camp to reek of a smell worse than death. They could've at least set up camp somewhere that isn't by a sewage plant! At least nobody is nearby where they are annoying the neighborhood. Or is there?
A stranger in a pickup truck arrives and taunts the children by not turning their headlights off, irritating Nick as he smashes one of his headlights with his beer bottle. What a good waste of alcohol. As the night of drinking and stupidity closes, the video camera gets stolen, and shows whomever creeping on the campers. Is it a raccoon? I thought it was, since they left all of their food just sitting out there! That's how you get raccoons, people! Carly hears a noise, startling her, making her curious to check it out like any other rational and stupid horror movie character would do. She scopes around the neighborhood and finds nothing out of the ordinary.
The next morning, aka 2:30 according to Blake. The girls go out in the woods to pee. Again, I don't believe that Paris Hilton pees either. She has to be a robot!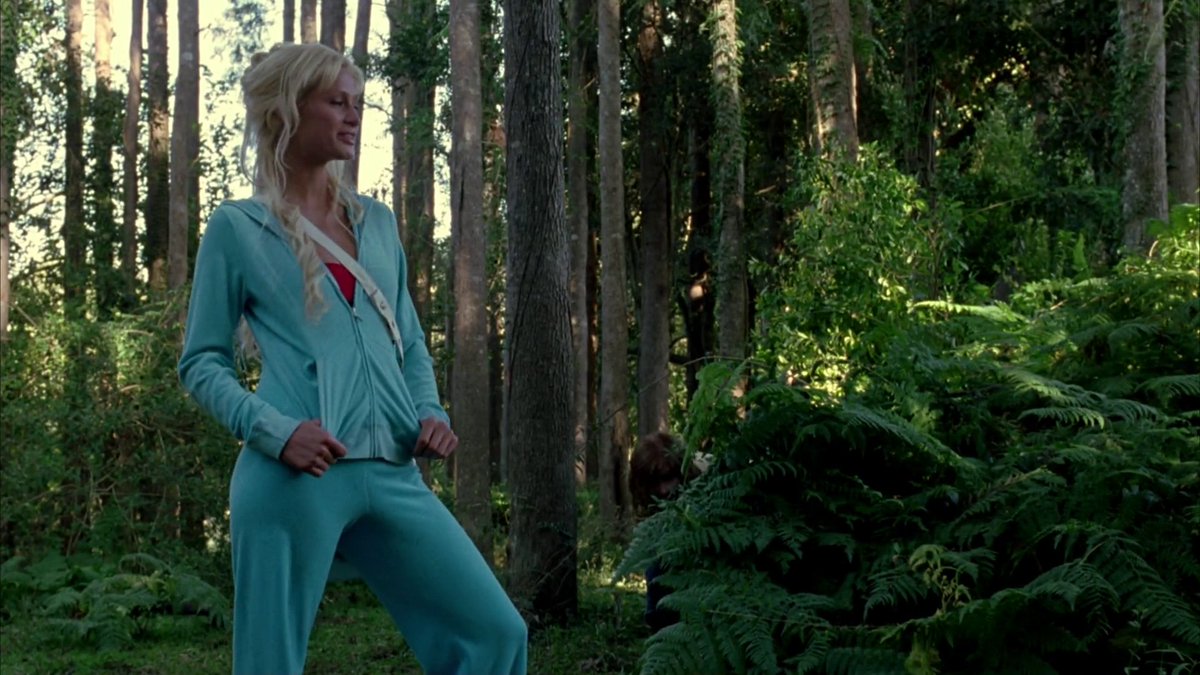 Another gust of wind brings the nasty smell, making Carly curious. Wade discovers that his car's fan belt is broken. Carly eventually falls into a pit of rotting animal carcasses. She also finds a hand in the batch of animal goodies. Paige almost vomits, which I do believe she has that function. After rescuing her, the group meet Lester, who pulls the hand out of the carcasses to prove that the body part is plastic. "Anyone need a hand?" what a comedic genious!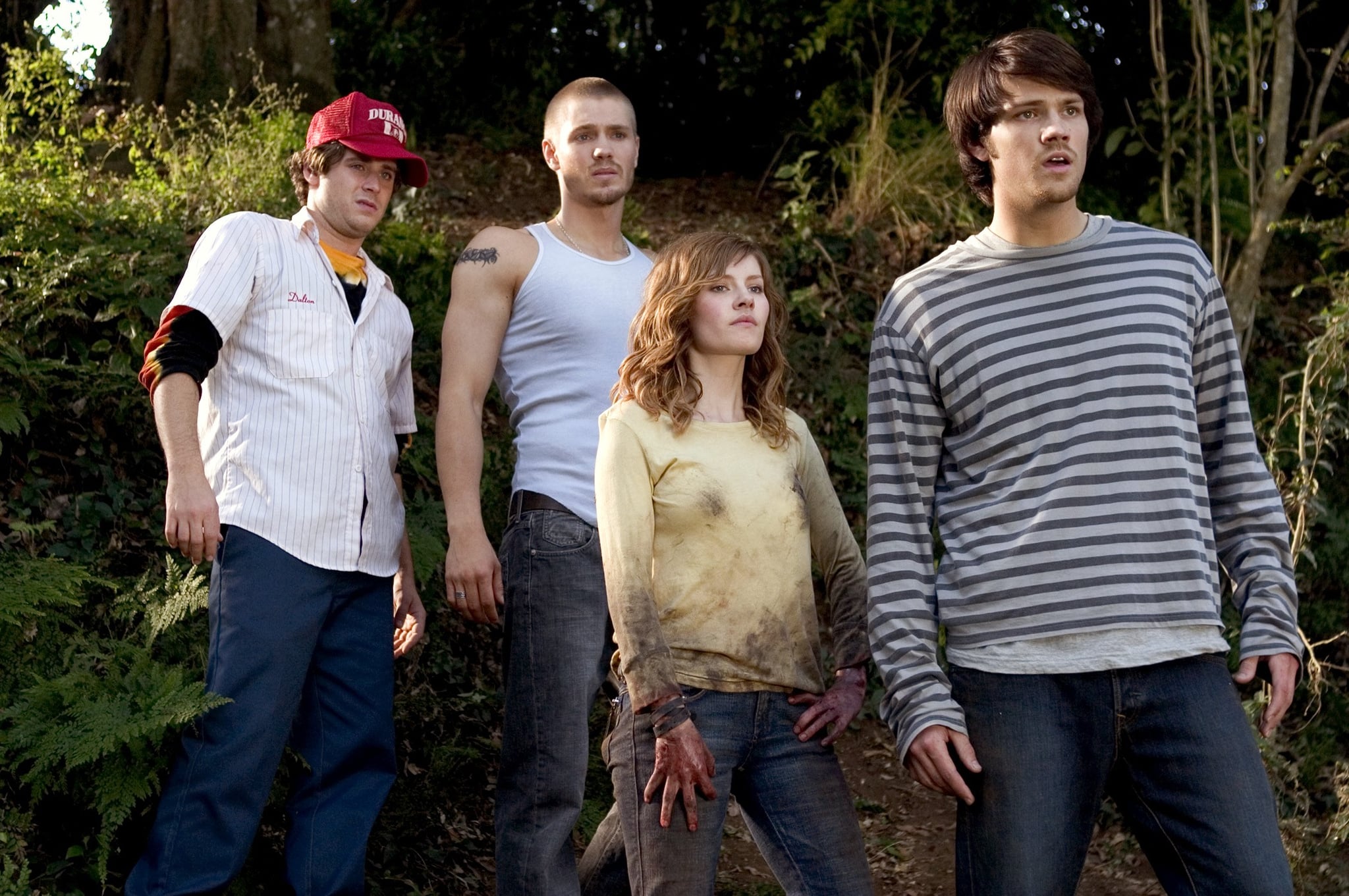 Nick becomes a supportive brother and gives Carly his white beater, exposing my teenage crush's hot body. Drool! Lester drives Carly and Wade to the nearby town of Ambrose for a new fan belt while the rest head to the football game. Naturally, he creeps out Carly and Wade with his rotting animal parts in the truck and him checking out Carly and also showing off his very dangerous and sharp hunting knife.
The others are stuck in traffic on their way to the game and end up turning the truck around since they aren't used to waiting.
Carly and Wade arrive in Ambrose, which is virtually a ghost town. There are signs of a beauty pagent that they laugh at and find a pet store with puppies sleeping, and their tails wagging as if they are excited…completely defeating the purpose of sleeping. They only saw one person looking out the window creeping at them. At the local church, they find a funeral in progress and meet Bo. It's rude to interrupt a funeral! Once Bo leaves the church, offers to sell them a fan belt after the funeral. Wade then accuses Carly of having every man into her.
Side note, this is one of the many reasons I don't like Jared Padelecki. He always plays these douchy crybaby characters. I personally am not a fan of his!
While waiting, they visit "Trudy's House of Wax", a wax museum which is itself made of wax and the central feature of the town.
Cuts to some hands molding out another wax figure being interrupted by Wade's complaining. Wade and Carly admire all of the intricacy of the wax figurines and check out the grim aesthetic. Wade finds a dog, assuming that it's wax, but isn't. What a wuss! Carly finds weird figurines and notices the name Vincent carved on most of them. Wade finds two highchairs, one of which has the name Vincent on it while Carly gets startled by a person looking at them from outside with what looks like a face made of wax. Wade checks it out while Carly says inside like smart people not sticking together. She gets spooked by one of the wax figures with half of its face melted causing her to knock it over, breaking it and being disrespectful towards other people's property.
Cut back to the rest of the group, Nick and Dalton go pee together like straight me usually do as close as they were. Blake asks them to go check on Wade and Carly while he and Paige go fornicate.
Wade and Carly follow Bo to his house to get the fan belt. Wade goes to use his bathroom while Carly waits in Bo's truck.
Nick and Dalton are driving to Ambrose, noticing that the town is nowhere on the GPS system, causing concern.
While inside, he does anything but urinate. Actually he does, but he gets nosy and going through all of Bo's possessions. He finds many face molds and a surgical table complete with a set of tools. Carly becomes impatient and moseys outside the vehicle and notices that the truck is missing one of its headlights, making her honk the horn to gather Wade's attention to get him out of the house. The lights suddenly go out. Scary! The door is locked and he is trapped inside and eventually attacked and knocked unconscious by Bo's twin brother Vincent, who wears a wax mask to cover his facial disfigurement from when the twins were once conjoined. Carly tries to call Paige, but she is too busy making another porno in the woods. Bo comes out and Carly locks herself in the truck and she confronts him for being at the campsite last night. He attacks her and tries to get away, but has horrible driving skills and gets all but thirty feet. Bo catches up to the truck, making her run into the town to hide.
Meanwhile, Vincent gives Wade a drug that permanently paralyzes him. He tends to his wounds and gives his entire face a wax. At lease if it doesn't work out in this move, he could wax eyebrows and do bikini waxes! Such talent! He then sets up Wade in a contraption to keep him still and covers his body in molten wax. As much as I don't like the character or the actor…that absolutely sucks!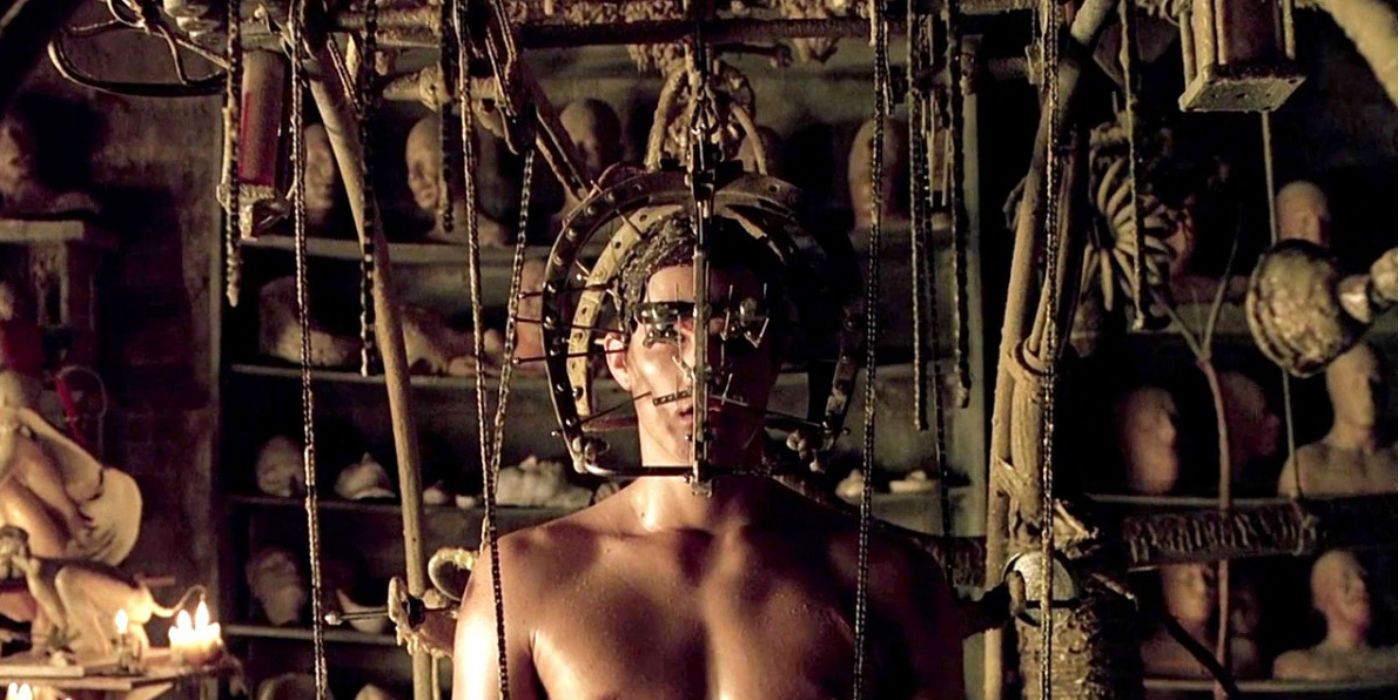 Carly runs to the church for help and finds the congregation all wax dummies. Da fuq?! She then realizes that the entire town is staged to be believable. She accidentally breaks one of the figures arms, revealing bone and blood, revealing that these are actual people converted into wax sculptures. Bo arrives and she hides under the pastor's robe. Out of all the places, she had to hide next to the crotch of the innocent one! How disrespectful! Bo soon abducts Carly, restraining her in the gas station cellar and gluing her lips shut. I guess that is one way to get somebody to shut up! Most people ask kindly. Others use duct tape. At least it isn't Gorilla Glue! During the restraining, she finds the scars on Bo's wrists that revealed that he was the naughty child during the first scene. And we all thought that Vincent was the one. Never assume, people!
Nick and Dalton split up once they get to Ambrose to look for Wade and Carly. Dalton walks toward the House of Wax. Nick finds Bo at the repair shop, where Carly breaks one of the arms of the chair to gather Nick's attention.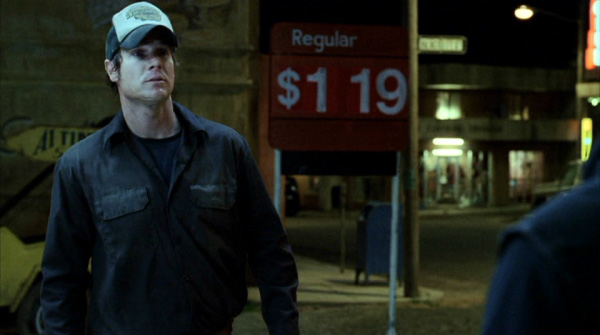 When Carly tries to alert Nick, Bo cuts off her finger tip which must be hella painful! This poor girl couldn't even scream! She then does the smart thing and tears her lips apart and screams for help. Bo attacks Nick, but isn't a match for my seventh ex husband Chad Michael Murray who uses his badass moves to save his sister. My hero!
Back at the House of Wax, Dalton admires the amazing craftmanship of the museum and eventually finds Wade at the piano, who is unable to move in his wax coating.
Dalton tries to free Wade by peeling off the wax from his face, inadvertently removing his skin in the process. Its one of theose scenes in movies where Dalton tries to fix it but only makes it worse. He is then ambushed and chased into the basement and eventually decapitated by Vincent. During the ambush, Vincent tried to sneak attack Dalton, but slices Wade's cheek off. Poor guy!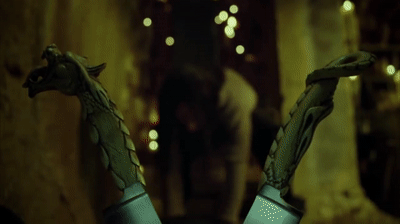 Carly and Nick continue to realize the wax figures are actually the wax-coated corpses of visitors lured into town, including the woman who looked out the window. Bo had been manipulating Vincent into murdering people to make more realistic wax figures.
Cut back to the porno where Paige and Blake are being helpful for the cause and not doing anything for the broken truck or searching for their friends. Their music get cut and Blake goes to check it out. Vincent kills Blake at the campsite. Apparently Paris Hilton doesn't have any sense of hearing since she didn't hear him get killed ten feet away.
Paige gets spooked by Vincent and chases Paige to an abandoned sugar mill where many abandoned cars are dumped from all of the victims in addition to boxes of old cell phones (Nokia..haha) and possessions.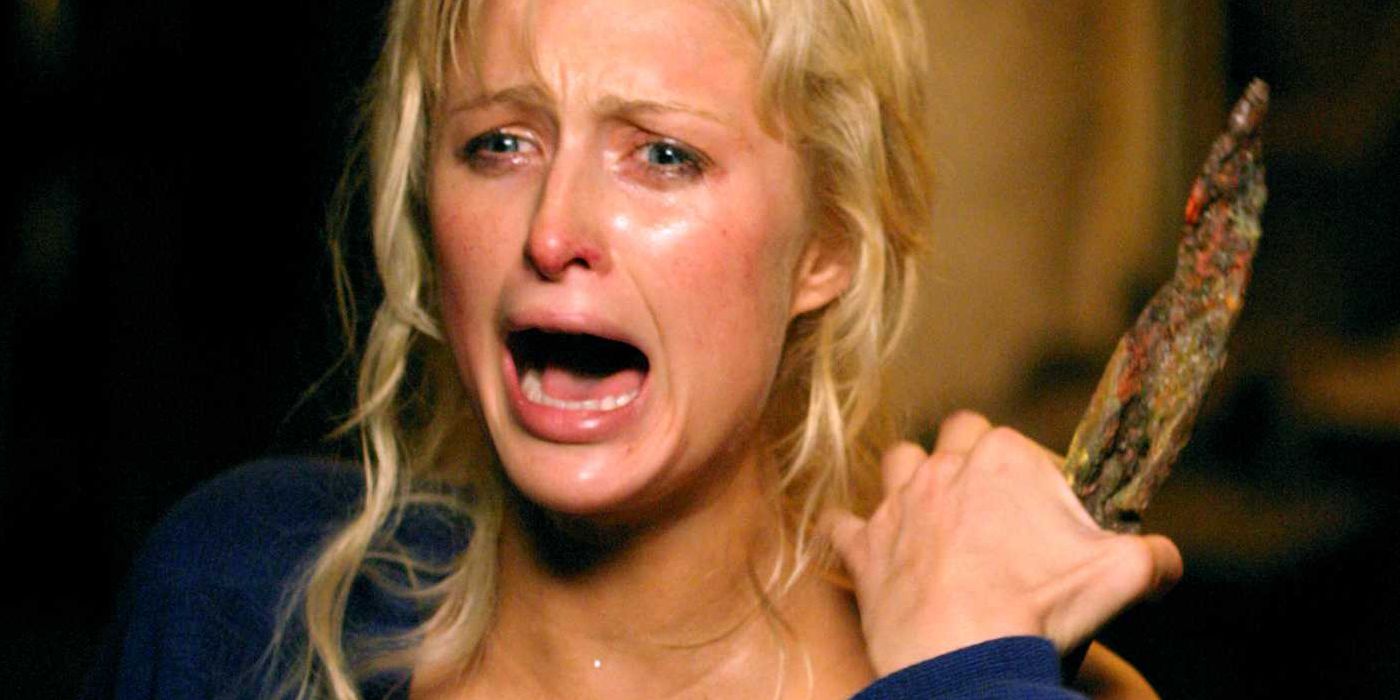 I will give credit to Paris Hilton and her acting skills in this part. She was believable with running scared and doing what she could to survive. She sliced her heel during the chase and hides in one of the cars with a broken pipe. Vincent finds her and hides behind another car, where he throws a metal pipe through her forehead. As she slowly dies, her head drifts down the pipe little by little as if she is praying. Probably praying for forgiveness for being on The Simple Life.
Carly and Nick search the town to find something to defend themselves with. Bo finds them and chases the siblings into the movie theater where a showing of Whatever Happened to Baby Jane. I did not know about that until I rewatched this movie for the sake of this beatdown. I guess the makers were trying to get brownie points with the gays? Bo goes into the screening, while the siblings sit like the figurines being believable with their sweaty faces, blending in with the crowd.
Bo finds her and shoots poorly at the figurines and killing their actual wax coated bodies. Nick shoots Bo with the crossbow in the chest and arm. They go to Bo's truck to get Carly's phone and it wasn't there. They go inside the house to look for the phone and Wade. As they search the premises, they find the pictures of the conjoined twins. Bo stumbles inside to tend to his more-than-a-little flesh wounds as he jigsaws himself by pulling out the arrows from his arm and chest. Vincent arrives in a towtruck carrying Paige and Blake, where Carly could see it. The siblings find an underground passage that takes them back to the House of Wax, finding a mass assortment of breaker boxes. Since their dumb asses couldn't see in the tunnel, they try to see if one of them would turn on a light to help them see. It only turned all of the lights on and off in the entire town, blowing their cover. They make it to the wax workroom and find Dalton dead and covered in wax in the contraption.
Vincent finds them and starts a little fight scene. Nick unintentionally starts a massive fire. Once they get to the main level, they find Wade and Bo. They start fighting and breaking a bunch of shit, including the innocent wax people. The fire gets out of control, causing the figures, as well as the entire museum, to start melting.
This scene was actually cool as the faces were all melting and there was nowhere to run, since the floor was melting. Making it difficult to walk like Nancy going up the stairs in Nightmare on Elm Street. Bo stabs Nick in the leg before Carly beats the shit out of Bo to death with a baseball bat. Upon seeing him dead, Vincent chases Carly to the top floor where she tries to reason with him about his brother's treachery.
As Nick makes his way up the waxy stairs like Nancy did in Nightmare on Elm Street, Bo disappears into the melting floor.
Carly barricades the door with the wax furniture, but with heat, comes soft wax making it easy to cut through with a knife and break in.
Nick comes to the rescue and removes the wax mask, revealing his half face poorly done with CGI. She removes the knife embedded in Nick's leg and stabs Vincent to death. The floor collapses and Vincent lands on top of Bo like they were born face to back of head. I don't understand this part…but if Bo died and fell into the burning basement, he would've been charred. The only thing that appeared to be untouched by the blazing fire was his dead body. Oh well!
Carly and Nick felt trapped with the continuously melting and collapsing structure before using their high school brains to tear apart the wax walls to dig themselves out and escape as the building melts to the ground. I guess that Vincent won't get his shot at Brazilian waxes afterall…how sad.
The next morning, the police arrive to gather evidence. Nick sees Dalton's camera being taken away in a evidence bag while he was in the ambulance. The officer told him that he couldn't have it since it was evidence. The sheriff comes to report that Ambrose has been abandoned for ten years since the sugar mill shut down. As Nick and Carly are taken to hospital, Nick shows Carly the camera because somehow he was able to sneak out of the ambulance and into the police vehicle to steal evidence…whatever. The police learn the Sinclairs had a third son. From inside the ambulance, Carly spots Lester with the Sinclairs' family dog, waving them goodbye as they are driven out of town.
We cut to My Chemical Romance closing out the credits with their badass music!
The end!
Let's hand out some awards.
The Haunted Hunk with no surprise will go to Chad Michael Murray. He was my high school crush, and will forever be in my Cinderella Story! And when he took off his shirt in this movie…
The Killer Slay-aka best kill will surprisingly go to Wade. It will be the only award I will give to him ONLY due to the fact that his death was very drawn out. He was paralyzed while getting a full face and body wax before losing a cheek and eventually getting killed at some point. I'm not sure when, but he went down with the melting house…so yeah.
The Basic Beheading-aka worse kill will go to Dalton. It didn't even show the beheading! If you are going to kill the other characters and show it…you better commit!
Overall Rating- 6.8 stars out of 10. ******
I do enjoy this movie from time to time. I have a problem with Jared Peledecki's acting. That alone loses points, no matter how much I wanted his character to die. I also have a problem with Paris Hilton's acting in parts of this movie. She is smart and very talented. When she has to dumb herself down to recreate her persona on the Simple Life, there is a problem. I did like her in the later part of the movie. She was very convincing in her chase scene. Apart from the acting choices, I thought that the movie was mostly done well.
If you have seen or heard of this movie…comment below about what you like or dislike!
And there you have it! Another beatdown in the archives! I will be posting these recaps as often as I can! I will be at least doing these bi-weekly. You may be lucky enough to get them weekly. It will just depend on the workload with my writing. Next post, we are going to hang out with our St. Patricks mascot on "Leprechaun".
If you don't want to be spoiled…do your homework and watch it ahead of time, so that you follow along with my synopsis and understand the humor I attach to horror. If there is anything you would like for me to add in my beatdowns, have movie suggestions, or even have any feedback to give me, go to the "Contact" section of my website and shoot me an email.
Don't take my comments or humor too seriously. After all…it's just HORROR! And horror is sooo gay…right?
Also, if you love horror just as much as I do, preorder your copy of my debut novel Cardinal Rules. In the Books section, you can select one of the links on where you would like to purchase! It will be coming out in eight days!
Until next time…keep slaying!