Welcome to another episode of my newly not so acclaimed, Movie beatdown! We will talk all things with horror movies and television. We will cover everything from slashers to slayers. Beheadings to bitches…I'll talk about all of it!
This breakdown is "Child's Play". Now, the purpose of the beatdown is to dissect these movies, so if you don't want the movie spoiled…don't read the content below. This breakdown is like Wikipedia…just with more pee. You have been warned! If you don't have time to watch the movie and would like a quick synopsis, then keep reading and let me tell you all about this movie from my gay eyes. It's like a synop-sis!
Child's Play is a 1988 American supernatural slasher film directed and co-written by Tom Holland, and produced by David Kirschner from a story by the legendary Don Mancini. It is the first film in the Child's Play series and the first installment to feature the character Chucky. It stars Brad Dourif, Catherine Hicks, Chris Sarandon, Alex Vincent and Dinah Manoff. Hicks plays a widowed mother who gives a doll to her son played by Vincent, unaware that the doll is possessed by the soul of a serial killer played by Dourif.
Child's Play was released in the United States on November 9, 1988, by MGM/UA Communications Co. It grossed more than $44 million against a production budget of $9 million.
Along with the film gaining a cult following, the box office success spawned a media franchise that includes a series of six sequels, merchandise, comic books, and a reboot film of the same name released in the summer of 2019. Child's Play was distributed by Metro-Goldwyn-Mayer, although the rights to the series were sold to Universal Pictures in 1990, right before production on Child's Play 2 started. MGM retained the rights to the first film and, as such, distributed the 2019 reboot.
Without further ado…let's get to the beatdown.
We start the movie in 1988, on a quaint night…just kidding, a police chase, where Charles Lee Ray, a fugitive and serial killer, runs through the streets of South Side, Chicago by homicide detective Mike Norris, played by Chris Sarandon…aka Humperdinck in the Princess Bride.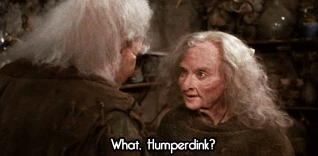 He shoots Charles multiple times and hits him. Charles's accomplice, Eddie Caputo, escapes alone in a getaway vehicle like a loyal partner in crime. Charles breaks into a toy store where Mike shoots him again. Charles, realizing that he is dying and swears that he will get his revenge on Mike as well as Eddie Caputo.
He collapses dramatically on a pile of toys. Calm down Charles…it's just a gunshot wound to the chest. He performs a Haitian voodoo spell to transfer his soul to one of the Good Guy dolls, causing the store to be struck by lightning and explode. I want to point out that the dolls are very creepy. Red heads have taken quite the beating from society with being compared to characters like these dolls! That and the Weasleys…maybe even Ron Howard too! Mike survives the explosion and re-enters the store, only to find Charles's corpse and the doll.
The next day, little kid Andy Barclay is in the kitchen cooking his mom, the widow Karen Barclay, or better known as Catherine Hicks from 90's kids television show 7th Heaven, where she plays with a bad man, who was the husband, who later in his career, confessed to having sexual misconduct to multiple minors. Not on the show…in real life. Anyway, back to the extremely unappetizing meal. He overpours cereal and burns toast. He should be competing in "Worst Chefs in America." He would probably be the first one eliminated. He even spills the mild on his way to her room…tragic. By the way, what kind of a child would cook for their parent on HIS birthday?! What the hell? Karen gives Andy his birthday raspberries…which all I can think of is the scene from family guy where Lois is drunk while doing that to Stewie, ending up vomiting all over him. LOL!
She allows him to open his presents and the box that looked similar to a Good Guy box ended up being clothes. Andy was disappointed. How ungrateful. We fast forward to Karen at work in a cheap jewelry counter where her friend and coworker Maggie informs her of a doll that was being sold by a peddler in the back alley. Hot. Maggie even said that "I think I dated him." No, you didn't Maggie…no you didn't.
Karen then gets pressured to work the night shift due to call ins, missing out on her son's birthday. I do not miss my days in retail…not one bit! I hated when they would do that to you, forcing the impression that it is your responsibility as an employee to fill the open shifts. Andy was excited to finally have the doll. He introduces himself as "Chucky,".
That evening, Chucky and Andy play with his tool set, where Chucky is more focused on the news with the breaking story of Charles Lee Ray's death. Maggie doesn't allow them to watch the news and gets the two ready for bed. While Andy is brushing his teeth (poorly), The doll ends up in the living room watching the news alone.
Maggie was frustrated with the assumption that Andy turned the TV back on and placed Chucky there. After Andy's bedtime, Maggie finds Chucky sitting in front of a television tuned to a late-night newscast about Charles Lee Ray. She returns the doll to the bed. She enjoys her alone time and is slowly creeped out by the noises she hears and assumes that Andy has gotten up from bed. Shit is moved around the apartment which is creepy. Everything has its place, and Andy shouldn't mess with the Fung Shui of the apartment! Rude! She finds something out of the ordinary, that isn't shown to the audience at this time, but hits her in the face with a hammer, startling her as she falls through a window and dies.
The scene ends with the curtains drifting out the broken window. Now, Karen has to pay her utility bill to heat the outside. Nice!
Karen comes home to find a swarm of police outside her building, getting to her apartment where police are investigating. Well, almost all of them. One was on the couch reading the newspaper. Our tax dollars going to good use! Karen was worried that something happened to Andy, and shortly after was relieved that it wasn't the case. She did find out that Maggie was the victim and now gets questioned by Detective Norris, Detective Norris who considers Andy a suspect based on tiny footprints on the spilled flour in the kitchen. Maggie could've at least cleaned up before falling out the window. She is definitely not getting paid! Karen becomes frustrated that Andy is being considered a suspect. I'm also sensing some sexual tension between the two. Maybe she is into handcuffs. Before going back to bed, Andy finds flour on the bottom of Chucky's shoes, telling the police about it. Much to our surprise, nobody believes him. Maybe Chucky was playing with his Easy Bake Oven? As Karen prepares herself for some much needed alone time, she overhears Andy talking and finds him sitting on the floor talking to his doll. Does he not know the meaning of bedtime?! She asks him more about Chucky to inquire further. Andy then tells her that his name is Charles Lee Ray and that "Maggie is a real bitch and got what she deserved." What kind of birthday child has the entitlement to get away with all of these shenanigans today? He should really be on Problem Child! God, I loved that movie! Karen tucks him back into bed for the evening to end Andy's day of mischief. Tomorrow is no longer your birthday. You are now on an equal playing field as the rest of us! Behave!
The next morning, Karen walks Andy to school with Chucky. As soon as she leaves, Andy walks out a different exit to skip school and take the Chicago "L" train downtown. I guess we haven't seen the last of this misbehaving kid. Maybe he should be the new Damien in "The Omen." While on the train, he keeps whispering into Chucky's ears.
I can't help but to insert my own dialogue to make the scene funny. Like, Alaska in RuPaul's Drag Race…" Your makeup is terrible." HAHA!
He get off under the bridge to homeless city and is led to an abandoned home. While Andy is distracted with a sudden potty break, Chucky sneaks into Eddie's house and kills him by causing a gas explosion with the open oven.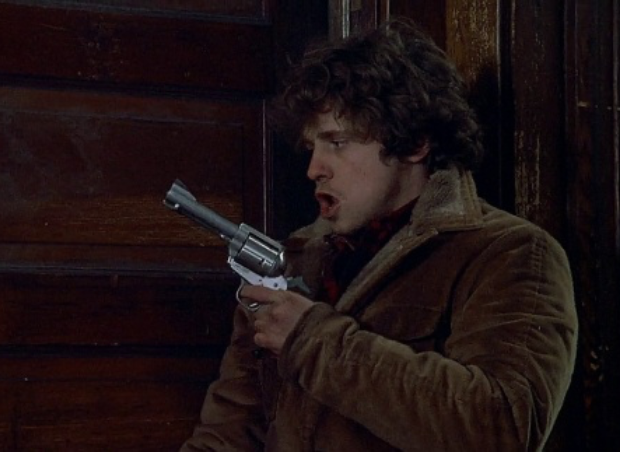 Karen's day is interrupted with a call to the police station, where Andy is again considered a suspect and is admitted to a psychiatric hospital after claiming again that Chucky is responsible for the murder.
Karen goes home and is left with the weird looking doll. She starts losing her own mind and starts talking to Chucky to see what all of the fuss is with her demented child. At first, the doll just says its normal scripted lines. In frustration, she goes back to the kitchen to look at the box it came in. When Karen picks up the Good Guys box and drops a battery pack, Karen realizes that Chucky has been running without them the whole time. GASP! Well, it saves her the money to buy more! Enervated, looks at the back of the battery pack and notices they are empty, where Chucky then says his line a little more creepily while turning his head all the way around, exorcist style.
Karen becomes startled and drops him. When she finally picks him back up, she lights a fire and threatens to burn Chucky, causing him to violently come to life in her arms. "You stupid bitch, you filthy slut, I'll teach you to fuck with me!"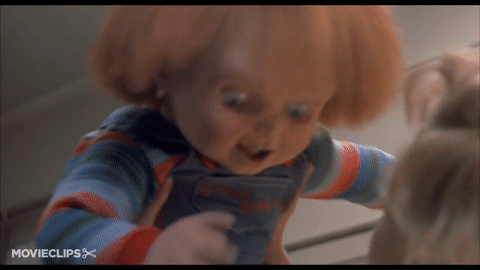 One of the most iconic scenes in horror history. He attacks her with biting, like a normal child would do…He's a real boy! Once she frees herself from his clutches, Chucky runs out of the apartment. Karen chases after him, but Chucky escapes.
Karen goes to the police station and explains what happened, but Mike doesn't believe her. Since nobody is willing to work with her, she goes all rogue and tries to figure everything out herself. Karen runs down to homeless city to find the peddler and asks for more information about where he found the doll. The funny thing is that all of the homeless folk all have nice teeth, except for the peddler. I want to know their dentist! As the peddler tries to sexually assault her, Mike rescues her and the couple force the peddler to admit that he took the doll from the demolished toy store. Mike then realized that the doll came from the same store that he was at the night Charles Lee Ray was killed. Karen again tries to convince Mike that the doll is alive, but he refuses to believe her, like the cocky police officer he is, not willing to face the facts. After bringing Karen home, Mike is attacked by Chucky, while he is driving, attempting to strangle him and then stab him in his man parts from underneath the seat, causing him to eventually flip the car over.
In the fight that follows, Chucky is shot and his wound inexplicably bleeds and causes pain. It was really funny how he fell backwards while he was shot. 1980's effects are super cheesy, and I LOVE IT! Chucky got a little too cocky with assuming that he couldn't be harmed…you know what they say about assuming…ass.
The next day, Karen goes to Charle's old apartment and guuuurl, does he need to find a gay friend to help with his decorating! I can't even! Mike meets up with Karen and updates her of his attack and says that he is into voodoo and spends a lot of time with his instructor.
Chucky runs away with his former voodoo instructor John, who informs him that the longer Chucky remains on the doll, the more human he will become. That's what you get for taking your sweet time prancing around in a toy and assuming that you are unable to be harmed! Chucky demands that John help him reverse the spell, but John refuses. It's going back to my retail days with the customer refusing to read the fine print of store policies and goes all "I want to speak to your manager," on John.
Chucky's hair does have the capacity to have the appropriate hairstyle to do so! Chucky grabs a voodoo doll from John and uses it to break his leg and arm. John reveals that in order to escape the doll, Chucky must transfer his soul to Andy, the first human he was revealed to. How exciting, Chucky can not only act immature, but be old enough to get away with it! How lovely! Chucky stabs the voodoo doll in the chest and escapes. Karen and Mike arrive shortly after. Before dying, John tells them that although Chucky is a doll, his heart is fully human at this point and vulnerable to fatal injuries. I just can't believe that Chucky has a heart, and the Tin Man in the Wizard of Oz struggles to find one. How unfair!
Chucky arrives at the hospital where Andy is being held. Andy notices that Chucky is on his way to get him. The doctor doesn't believe him, naturally. He escapes by using his arsenal of tricks and things to hide.
The doctor finds Andy and tries to sedate him but gets attacked by Chucky and electrocuted to death by the electroshock machine. Maybe that type of treatment shouldn't be administered? The struggle between Andy and the doctor with the sedative does reminds me of people refusing to get a COVID vaccine. That's all I will say about that topic. I'm not going to go into science or politics…just let's resume with the movie!
Andy escapes once again and flees home. We cut to the elevator where an elderly couple find Chucky riding up with him. The woman says its ugly right as they leave. Chucky then curses at them. I thought that was pretty funny! Chucky breaks into the apartment through the chimney like good ole' Santa Claus and knocks him unconscious with a baseball bat.
As Chucky prepares to possess him, Karen and Mike arrive to stop him. Chucky cuts Mike's leg, but then Karen throws him into the fireplace. Andy regains consciousness and drops a lit match on it, burning Chucky to a fine crisp. Before doing so, NOW chucky wants to be his friend and calms down. A little late for that. Excuse me, waiter…but my food is burnt. I can't eat this!
Karen and Andy leave the room to help Mike. As Andy goes to find a first aid kit, he notices that a charred Chucky escape from the fireplace and eventually chases Andy. They play tag in the apartment and run around in circles a few times.
Chucky stabs Karen in the hand as she holds the door closed to try and protect her son. Karen shoots Chucky multiple times, dismembering an arm, leg, head, and is again presumed dead. Mike's partner Jack arrives at the apartment, initially refusing to believe the trio's story as he messes with the evidence…like a good cop normally does. Eyeroll. Chucky's body suddenly bursts through a vent to strangle Jack. During the fight, Mike shoots Chucky in the heart and eventually defeats him. Jack then tells him that no one would believe him. Because people suck!
Jack, Mike, Karen, and Andy all leave the room, and a freeze-frame shot captures Andy's horrified face, having clearly been scarred by the experience, as the screen fades to black.
Let's hand out some awards.
The Haunted Hunk award by default will have to go to Detective Mike. There are very limiting male characters, as it only follows Karen and Andy mostly. Jack was a complete moron, as well as the doctor and Eddie. So, you are lucky mister Mikey! But you are no Magic Mike!
The Killer Slay-aka best kill-will go to the doctor. There are very few deaths in this movie. Apart from Charles Lee Ray in the first scene, there are only four or so that get killed. The doctor was killed by a medically unorthodox practice which is poetic.
The Basic Beheading-aka worst kill- will go to Eddie. The buildup was nice before the house exploded, but I think what would be better is if he saw chucky in doll form before being killed, making a "gotcha" moment really work for that scene.
Overall Rating- 8.7 out of 10 ********
Overall, I love this movie! It is a classic that will never die, unlike Chucky in his assumptions. This movie has scared many children for years. It is pretty genius that a doll would terrorize people. The fact that they used robotics to make this happen convincingly back then is something that you should respect! Plus, I love the effects of the doll getting thrown back when it's shot. I don't know why it's so funny to me!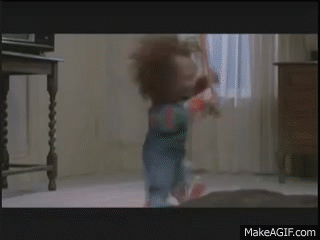 And I can't help but compare Chucky's behavior to the terrible twos!
If you have seen or heard of this movie…comment below about what you like or dislike!
And there you have it! Another beatdown in the archives! I will be posting these recaps as often as I can! I will be at least doing these bi-weekly. You may be lucky enough to get them weekly. It will just depend on the workload with my writing. Next post, I will be taking a break and will be going to my friend's house for some much needed sleep. Since we are in a pandemic, I can't do that. So we will all have to settle for, "Slumber Party Massacre" instead! If you don't want to be spoiled…do your homework and watch it ahead of time, so that you follow along with my synopsis and understand the humor I attach to horror. If there is anything you would like for me to add in my beatdowns, have movie suggestions, or even have any feedback to give me, go to the "Contact" section of my website and shoot me an email.
Don't take my comments or humor too seriously. After all…it's just HORROR! And horror is sooo gay…right?
Until next time…keep slaying!